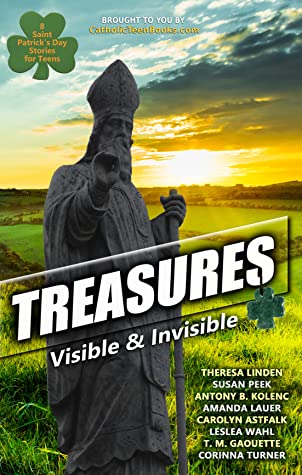 CatholicTeenBooks recently released their third anthology Treasures: Visible & Invisible. As is the case with all the short story collections, this book gives readers a chance to meet several different authors and their writing styles. 
All the stories in Treasures are linked through a fictional relic of Saint Patrick. The book begins with a fictional account of Saint Patrick himself, then travels through the ages with stories set in different historical periods and ends with a futuristic dystopian story. These edifying stories not only entertain but beautifully highlight the wonders of our faith. This book would make a wonderful Easter or Confirmation gift for the teen in your life.
Treasures: Visible & Invisible
Treasure in the Bogs by Theresa Linden
A teen boy sets out to save a friend from pagan druids, but maybe he's the one who needs saving.
A Single Day…Or Not by Susan Peek
Between a baffling scripture verse and a visit from Heaven, a young monk is in for the surprise of his life.
Lucy and the Hidden Clover by Antony B. Kolenc
A young girl seeks a mysterious treasure that holds the key to granting a nun's dying wish.
Lucky and Blessed by Amanda Lauer
Honora is desperate—then a peculiar clover and a mysterious young man change everything.
William's weekend job is a little gift from heaven, but now his family needs a real miracle.
Grace Among Gangsters by Leslea Wahl
When threatened by mobsters, Grace receives help from a surprising source.
In Mouth of Friend and Stranger by T.M. Gaouette
Alone and afraid, a young girl finds friendship in a stranger. But could this boy be trouble?
The Underappreciated Virtues of Green-Fingered Monsters by Corinna Turner
Kyle was determined to save the precious relic – but now his whole family is in danger.
From the early days of the Church, objects touched to holy men and women have been linked to the miraculous, such as described in Acts: "when face cloths or aprons that touched his skin were applied to the sick, their diseases left them and the evil spirits came out of them." Acts 19:12
Insight into the Process:
Since Saint Patrick is known for using the shamrock to describe the Trinity—Father, Son, and Holy Spirit, we took our inspiration from a fictional shamrock-shaped stone. Each author then chose a different time period in which to place our stories and we began to write—hoping the stories would somehow all fit together. This was a new process for us all and was so much fun to be part of. Each story in the collection is truly unique and inspiring.
Reviews:
In a world where today's young adults are constantly surrounded by media that is trying desperately to tear them down, it is a blessing to have books like this that reaffirms our Catholic faith. Not only does each author give us a great story to read, they also challenge us to think about things like: the hardships of people in our ancient church, putting Grandma first on our social calendars, praying to God when in the midst of fear and suffering, staying strong in our faith while looking death in the face, listening to unlikely friends who lead us on the path to Christ, and ultimately realizing there is sacredness in the relics of our church. You only find stories that build our faith like this in very special books. The "building-up"of today's youth is at the very heart and soul of what the authors are trying to do here, and they have done an amazing job.
Beth Ruggiero
Lit by the Tree, Literature reviews from the Catholic side.
Litbythetree.com


I invite teens, and readers of all ages, to stand on the craggy wind-swept cliff of your imagination, and experience the collection of stories called, Treasures: Visible and Invisible, created by the talented team of authors from Catholic Teen Books. With a shamrock as our touchstone, this book takes us on a journey through an expanse of time from ancient to modern. Be inspired by the holy greatness of heroism rooted in the spiritual treasures of the Emerald Isle.
Cathy Gilmore,
Creator and advocator of stories that inspire heroic virtue. VirtueHeroes.com


We thoroughly enjoyed this cleverly written book about the intercession of St. Patrick throughout the ages. The combination of dynamic characters and intriguing stories kept us hooked from start to finish. A valuable addition to your St. Patrick's Day bookshelf!
Jennifer & Kate Waldyke,
Co-hosts of Catholic Mom and Daughter


This is the third collection from the authors of Catholic Teen Books. It was an inspiring read. Some stories are of miracles and others about change. Two contributors from the previous collection did not contribute and two new ones have joined the fray. In this collection are 8 stories from the 14 authors who currently compose the collective. My first thought was wow! What an amazing collection of stories around Saint Patrick! I am aware that not everyone likes short stories, but I love them, and this collection is amazing! Short stories are a different art form than novels, and not all novelists have mastered the craft. For a short story to be good, the writing needs to be tighter, cleaner, and crisper. And each of the 8 in this collection is extremely well written…
(Full review on BookReviewsAndMore.ca)
Steven R. McEvoy, BookReviewsAndMore.ca

What a gift to Catholic teens and their families! Each piece in this collection of stories revolving around St Patrick is a beautiful portrayal of the faith. These are wholesome, engaging, and inspiring tales from a variety of genres that will both entertain and spiritually nourish every reader who picks up this book.
Katie Fitzgerald, ReadAtHomeMom.com